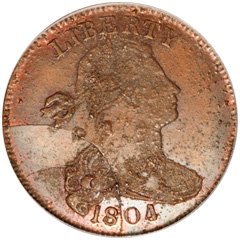 With an estimated mintage of 96,500 pieces, the 1804 Draped Bust Large Cent is a rarity which received attention early on. Very much in demand, high grade examples are elusive with no more than two or three uncirculated pieces believed to exist.
Because of the low mintage, the rarity of the coin was quickly understood and circa 1860 an unofficial, private restrike was created using discarded Mint dies. The restrike actually used a rusted 1803 die previously used for production of that date, with the 4 re-engraved into the die. The reverse die was one used for regular production in 1820, created a very illogical combination.
Despite the unusual nature of the "restrike", these pieces are listed in the Red Book, and while not as expensive as genuine 1804 large cents, these remain very collectible.