The Draped Bust Large Cent was introduced in 1796 and struck continuously until 1807. This represented the fourth design for the denomination and replaced the previous Liberty Cap Cent. The new design featured an obverse portrait of Liberty with a slightly more mature appearance than earlier renditions paired with a reverse design that was nearly identical to the earlier cents. The Draped Bust design was introduced on the silver denominations the same year, following its appearance on a limited number of silver dollars dated 1795. This can be perhaps be considered the first somewhat successful series of similar designs across various denominations.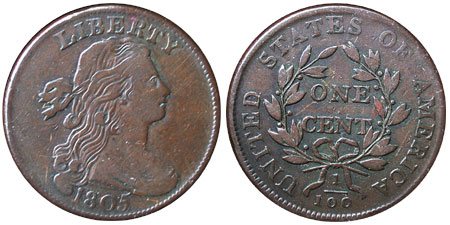 The Draped Bust Cent was designed by Robert Scot, who is credited with many of the early American coinage designs. He had started as an assistant engraver in the early 1790's, working on the majority of the dies for the Liberty Cap Cent, which had been designed by Joseph Wright. This work would no doubt prove valuable when new designs were requested for circulating coinage in the mid 1790's. Scot is believed to have based his rendition of Liberty on a painting of Ann Willing Bingham by Gilbert Stuart.
On the obverse of the new design by Scot, Liberty is pictured facing to the right. As the series name implies, her bust is draped, while her lightly curled hair is bound by a ribbon. Miss Liberty has a slightly older appearance, which is somewhat surprising, as Bingham was not even 30 by the time Stuart painted her. Perhaps the older appearance created by Scot was intentional, although the true reason, if indeed the portrait of Bingham was used as inspiration, appears to have been lost to history. Like the earlier design of the cent, the only other features on the obverse are the inscriptions LIBERTY above and the date below.
The reverse is virtually identical to the earlier design, with a olive wreath seen in the center. The denomination appears within, expressed as ONE CENT. For the many Americans of the time period who could not read, the denomination is also given as 1/100, with the numbers separated by a horizontal fraction bar. The inscription UNITED STATES OF AMERICA is around, placed close to the rim.
Like all early American coins, most of the lettering was punched by hand on the working die, resulting in different placement of the lettering relative to the devices which were present on the hub or master die. This created many varieties, which are heavily collected for the early large cents. The Draped Bust Large Cent series has always been intensely studied and remains one of the most popular series and denominations to be collected by variety.