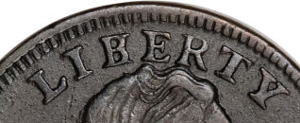 The 1796 Draped Bust Large Cent represented the first year of issue for the type and saw a considerable mintage of 363,375 pieces. This would actually turn out to be among the lowest of the series, with several issues seeing total production in the millions.
A number of different dies were created for this year and several varieties exist. Perhaps the most sought after is the so-called "LIHERTY" error. While not an H in the technical sense of view, the B in LIBERTY appears that way due to a mistake by the person who punched the letters into the working die. Erroneously, he first entered the B inverted and later corrected it. On the coins produced from the die, the mistake is obvious, resulting in a sought after variety which gives us some insight into the production at the early Philadelphia Mint.
Examples of the 1796 LIHERTY Large Cent carry a premium at all grade levels, which expands in higher grades. Only a single piece is known in mint state grades, followed by a few pieces in AU. What is believed to be the third finest example graded PCGS AU58, but previously considered XF45, sold for $80,500 at an auction in February 2008.