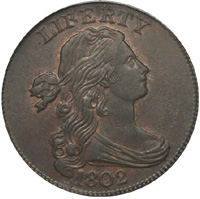 The Draped Bust Large Cent was produced each year from 1796 to 1807, resulting in 12 different dates. Many collectors will collect or study the series based on individual die varieties. Since the lettering was punched onto the working dies by hand, there is often variation in the placement, size, and arrangement of inscriptions, sometimes with notable errors.
The lowest mintage for a single date is considered to be the 1799 large cent. Although the exact mintage remains unknown, it is usually estimated that approximately 30,000 pieces were struck. The issue with the lowest reported mintage is the 1804 at 96,500, which prompted the creation of unofficial restrikes circa 1860.
The highest mintages are well into the millions, topping out at 3,435,100 for the 1802 large cent.
| Issue | Mintage |
| --- | --- |
| 1796 | 363,375 |
| 1797 | 897,510 |
| 1798 | 1,841,745 |
| 1799 | included above |
| 1800 | 2,822,175 |
| 1801 | 1,362,837 |
| 1802 | 3,435,100 |
| 1803 | 3,131,691 |
| 1804 | 96,500 |
| 1805 | 941,116 |
| 1806 | 348,000 |
| 1807 | 829,221 |